!?! | distribution | home | releases | video | netreleases
Roil Noise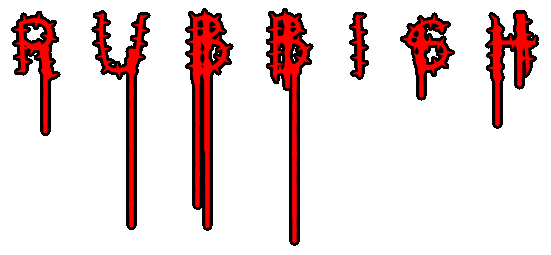 releases
All submissions should be in .wav format or at least 256kbps mp3s


RNR000 - Haris Pilton Noise 5" - 12 tracks of NOISE by 12 different noisers all made using Paris Hilton songs.
This one is copy wronged... you may release your own versions of it!
RNR001 - RUBBISH - Vexnation, The Great American Outhouse 5" - 9+ tracks celebrating the joyusly crappy American culture & more!


RNR002 - RUBBISH - The Pagan Christ 5" - 20 tracks of crumbling 1890s bible factory hard noise
with original writings by Kansas City, Kansas street person Prophecy Man


RNR003 - RUBBISH & OUBLIETTE - True Noise Nobodies 5" - 7 tracks of hard noise rebellion with a bonus mix of all tracks
RNR004 - RUBBISH & B.R.R. - Valentines 3" - limited to 18 copies 20+ minutes of hard noise tape cut-up mounted on
a used porn dvd and packaged w/ a rusty razor blade and/or fish hooks


RNR005 - Bales of Human Hair 5" - 18 obtuse aural excursions featuring such greats as: Rotted Brain, Oubliette, Rabbit Girls, iamaseamonster, Terence Fuller and Rubbish
RNR006 - RUBBISH & NUMMY - Love Dovians 3" - seven sickly sweet sonic statements


RNR007 - RUBBISH / I DIED / ROTTED BRAIN - Hymns for Victims of the Drug War 5" - a 3 way hooka of low tech soul piercing ear damaging assaults in defense of those imprisoned, harassed,beat and killed in this on-going unjust and unwinable war on our freedoms and natural human rights ....load your bongs and grab your guns the war isnt over yet!!!


RNR008 - RUBBISH & CIRCLE 6 - In Praise of Forgotten Gods 2x3" - glitched industrial noise from tombs of future barbarian heros


RNR009 - RUBBISH & GUNT - Foetid Tones of the Lovecraft Mythos 5" - abyssimal fungal and putrid mind corrupting aural vibrations created by reclusive and degenerate occultic minded outsiders for edification of lunatic gods and insane rites of horror, sick and wrong
RNR010 - Angry At Music 3" - sonic revenge against pop music culture
RNR011 - RUBBISH & TERENCE FULLER - The King of Tomorrow 5" - creepy rotted and mulched sounds. soundtrack for a psychedelic mechanical here after
RNR012 - RUBBISH & MYSTIFIED - Sounds For Abandoned Homes 5" - sounds for a lovecraftian crack house. haunted confusion filled with dust and mold
RNR013 - RUBBISH & CTEPHIN - Brain SuperCharger, Instant Guts! 5" - YOU WILL BE A BETTER, SMARTER, MORE GOOD LOOKING, MOTIVATED, HAPPY, FIT and RICH PERSON AFTER LISTENING TO THIS RELEASE or your money back
RNR014 - RUBBISH & DAMNO TE - North American Cultural WasteLand 5"
RNR - A - OUBLIETTE - Sylvia Plath 3''
RNR - B - DOPPELGANGER - The One Cause (spiritual hatenoise for the deconstruction of decadent values of the modern west) 3''
RNR - t1 - OUBLIETTE - Recycled Cassette... EXTREME RUBBISH VERSION c-120 the recycled track & my choice of rare classic OUBLIETTE very limited custom painted and carved cases
RNR - t2 - RUBBISH - Early Tape Releases c-90 featuring rare Rubbish c-10 tape releases from 1995 - 1999
RNRxxx - RUBBISH - when they outlaw noise, only outlaws will make noise 3" (featuring Austere, Doppelgänger,Oubliette) limited to 25 with wooden attachments and locks of OUBLIETTES hair 18:34 of very hard concrete and steel barriers with suicide truck bombers crashing in to them to no avail, a brutal sonic attack against all those who make bad music and false noise, an unrelenting electronic barrage of spitful anti-music hate FREEDOM OR DEATH!
RNRxxx - RUBBISH - Raider 5" 1 hour mix of the best of 2003/4
RNRxxx - RUBBISH - Lord Storm Christ Sword (A.T.W.A.) 5" 1 hour mix of the best of 2005
RNRxxx - RUBBISH - Vexinator (The Culture Seige Machine) 5" 1 hour mix of the best of early 2006
RNRxxx - RUBBISH - Live Terrors 5" five live tracks from 1996,97,98
RNRxxx - RUBBISH - Horde Forming 5" 6+ tracks of live manual basment primal noise the sounds of people who live under bridges originaly recorded in 1999
RNRxxx - RUBBISH - White Devil Black Noise 5" 19 tracks of rhythmic riff-raff noise and decomposition
RNRxxx - RUBBISH - Maximus Vex 5" & web release 20 tracks of disturbing killacidal noise
contact:
Pat Cooksey / RNR
#27 Sunrise Acres Ave
Sunrise Beach, Missouri
65079
usa
patrickcooksey [at] hotmail [dot] com